John Bandler receives the 2013 Microwave Career Award
This award of the IEEE Microwave Theory and Techniques Society (MTT-S) recognizes a career of meritorious achievement and outstanding technical contribution by an individual in the field of microwave theory and techniques. The basis for judging includes publication in technical journals, presentation of lectures, contributions to the advancement of microwave technology, and other technical contributions considered in conjunction with any or all of these areas of contribution. The award consists of US$5,000, a plaque, and a certificate. Travel allowance of up to US$1,000 is granted on a need basis for travel to the Symposium.
The 2013 Microwave Career Award went to John Bandler. The citation reads:
"For a career of leadership, meritorious achievement, creativity and outstanding technical contributions in the field of microwave theory and techniques."
The award was conferred on June 5, 2013, at the annual Society Awards Banquet held during the International Microwave Symposium, in Seattle, Washington. The photographs show Madhu Gupta (right), President of the IEEE MTT-S Society, congratulating John Bandler.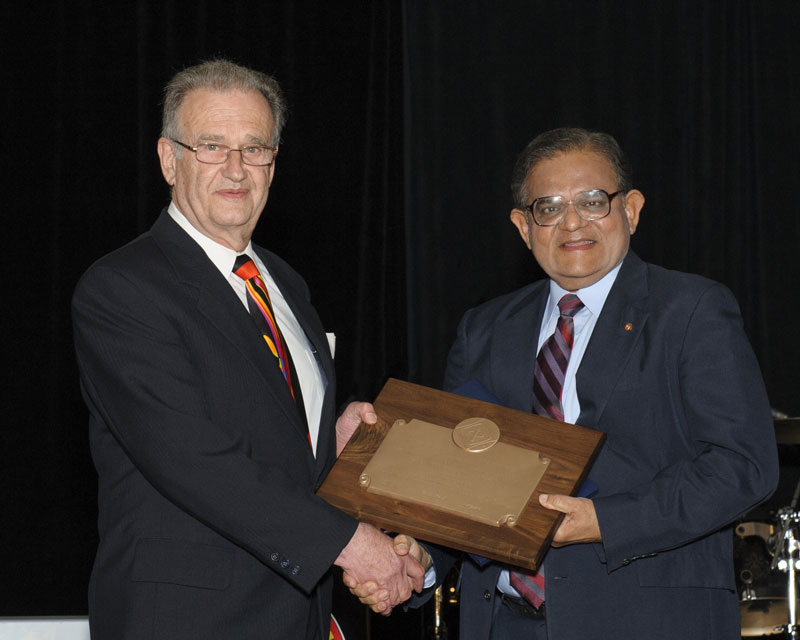 Download full-size picture here.
Download full-size picture here.
Biography
John W. Bandler was born in Jerusalem in 1941 and has lived in Cyprus and England. He lives in Canada with his wife Beth Budd. He has daughters, Lydia and Zoe, and five grandchildren.
He studied at Imperial College London, England, and received the B.Sc.(Eng.), Ph.D. and D.Sc.(Eng.) degrees from the University of London in 1963, 1967 and 1976, respectively.
He joined McMaster University, Hamilton, Canada, in 1969. He has served as department chairman and faculty dean. He is currently Professor Emeritus.
John was President of Optimization Systems Associates Inc. (OSA), which he founded in 1983. OSA implemented CAD innovations for Com Dev, EEsof, Compact Software, Raytheon and the Raytheon/Texas Instruments Joint Venture MIMIC Program; later OSA distributed several unique software products to major corporations. Hewlett-Packard (Agilent Technologies) acquired OSA in 1997, and John founded Bandler Corporation.
John was Associate Editor of the IEEE Transactions on Microwave Theory and Techniques (1969-1974), a member of the editorial board, and guest editor of several special issues (1974, 1992, 1997, 2004). He also served on other editorial boards and as guest editor. A member since 1968, he has served as a Chair of the MTT-1 Technical Committee on Computer-Aided Design.
John has published more than 470 papers, including contributions to books. He is a Fellow of the IEEE (since 1978, a Life Fellow since 2006), and is a Fellow of several other societies, including the Canadian Academy of Engineering and the Royal Society of Canada (since 1987).
In 1994, John introduced space mapping, which enables the high-fidelity design of devices and systems at a cost of a few high-fidelity simulations. Adopted into design portfolios across the entire spectrum of engineering, it facilities efficient electromagnetic optimization and explains in terms of everyday common sense the mysterious "feel" that engineers have claimed as special. John's research in space mapping continues.
The IEEE MTT Society honored him with its 2004 Application Award "For application of optimization technology, design with tolerances and yield-driven design to microwave devices, circuits and systems." He received the Automatic Radio Frequency Techniques Group Automated Measurements Career Award in 1994.
In 1977, on the occasion of the Queen's Silver Jubilee, John attended a dinner and a reception in Ottawa attended by Her Majesty the Queen and His Royal Highness the Duke of Edinburgh. In 2012, he was honored both by the IEEE Canada A.G.L. McNaughton Gold Medal and by a Queen Elizabeth II Diamond Jubilee Medal.
At the 2012 IEEE MTT-S IMS, a special session paid tribute to his pioneering contributions, and he delivered a rump session on "Human aspects of communication and persuasion," available on the internet through IEEE.tv.
His recent public talks relate his literary, artistic and engineering endeavors to aspects of human behavior, including routes to success, confirmation bias, first impressions and subtext. He has written short stories, a novel, a screenplay, and eight stage plays. Three of his plays have been performed; one that he directed himself in 2012—That The Multitude May Live—can be seen on YouTube.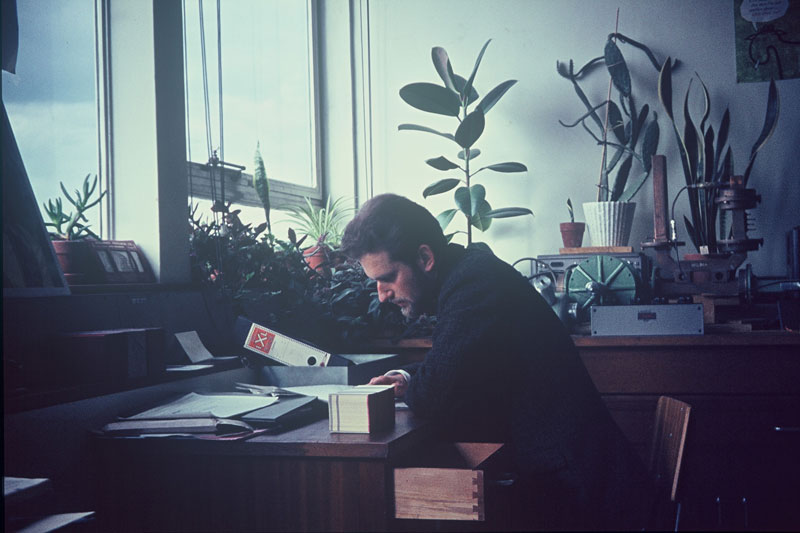 Student John in 1965 at his desk in the Microwave Laboratory at Imperial College of Science and Technology, London, England. His S-band experimental set-up is in the background.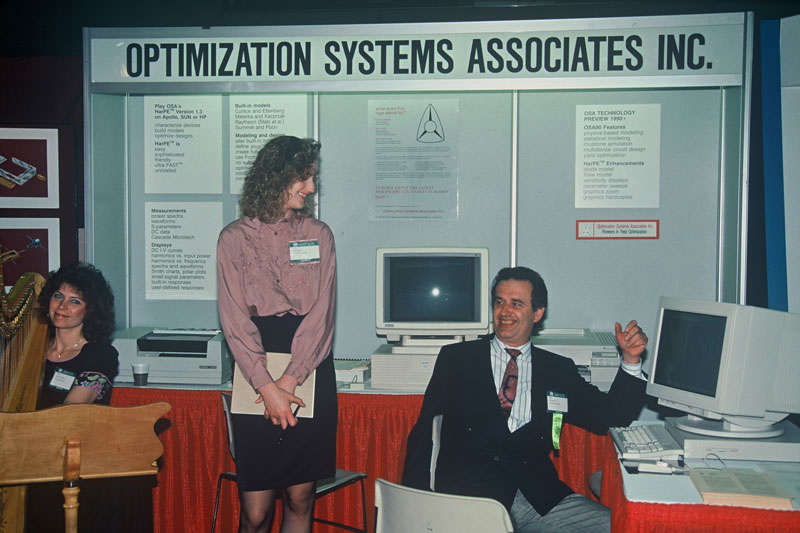 Entrepreneur John in 1990 and his daughter Lydia with a harpist in the Optimization Systems Associates exhibition booth in Dallas, Texas.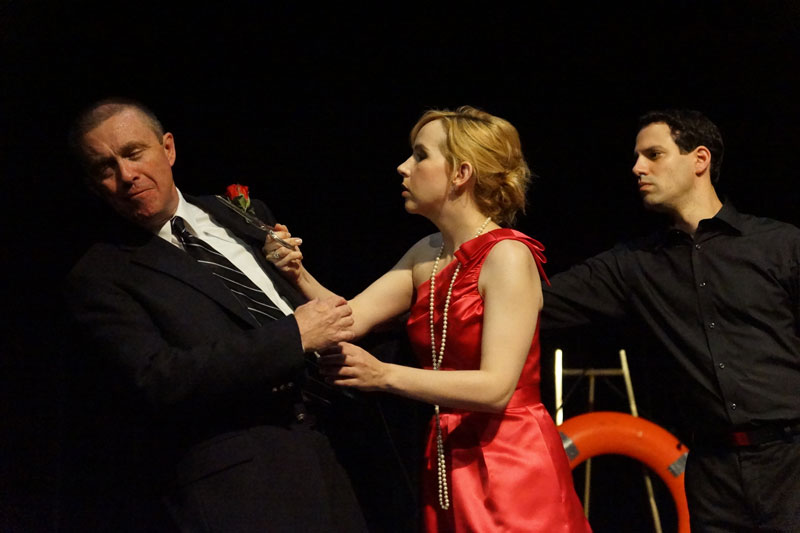 A moment from the stage play That The Multitude May Live, written and directed by John in 2012. From left to right, Steve O'Brien, Brenna Rae MacNaughton, and Matt Szpirglas. A full video is available on YouTube.